Christians have gathered on this site to worship God for many hundreds of years and there continues to be a vibrant congregation who meet here week by week to sing God's praises and hear from his Word.

St Mary's church is situated on the outskirts of the village to the east. St Mary's dates back to around the 12th century and is of flint construction. The 15th century bell tower houses six bells. Click here on information on the bells of St Mary, Graveley .

**Due to renovations to St Nicholas Church, it has been necessary to change the times of the services at St Mary's Church, Graveley at present, commencing from beginning of May 2019.**

The services will all commence at 9.30am, unless otherwise stated, until further notice. The work at Sr Nicholas Church Stevenage is likely to continue for approximately 6 months. The services vary in style (see below) but we guarantee that you will always receive a warm welcome.


Ist Sunday - Holy Communion with Choir
2nd Sunday - Service of the Word
3rd Sunday - A short Holy Communion Service ( approximately 45 minutes)
4th Sunday - Cafe Church ( informal service with coffee/tea provided )
5th Sunday - Service of the Word


What we do: We have an enthusiastic choir, who sing on the first Sunday, and a good team of bell-ringers- both of which are always keen to welcome new members. We are committed to reaching out in love and witness to the people of Graveley. We have been involved in the annual Village Day and with special events like the Jubilee celebrations. We have good and growing links with the local Primary School and nursing home.

We are part of the Church of England within the Diocese of St Albans. Our strongest link is with St Nicholas Church in Stevenage, with whom we share a Vicar. Whilst we have our own programme of services each Sunday, we join together on occasions throughout the year.

More importantly, we are people of all ages and backgrounds, gathered from the Village and surrounding area, who meet together week by week to study the Bible and so learn more about the God who made us and His Son who died for us so that all who trust in him might be forgiven and have eternal life.

Some of us are firm believers in Jesus, others are still investigating the Christian faith. But wherever you are on your walk of faith, we hope you will find a warm welcome with us and some help for the journey.

If you'd like to read more of an account of Jesus' life yourself or to chat about the Christian faith please get in touch.

For more information...

For general enquiries contact:
Rev Dave Brown 01438 213587 or email revdmbrown@gmail.com
or for weddings and baptisms, contact
Mrs Alison Hare - 07733 995779
* * * * *
Details about our shared policies for
baptisms and weddings, can be found at
www.saintnicholaschurch.org.uk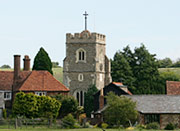 Welcome to St Mary's Church, Church Lane, Graveley, Hertfordshire, SG4 7LR