About Graveley

The village of Graveley is situated between Hitchin and Stevenage in North Hertfordshire close to junction 9 of the A1(M) motorway.

The village of Graveley has several attractive cottages, the 18th century Grange and Gothic House, and the George and Dragon with its 18th century facade of chequered brick.

Graveley church (St Mary's) dates back to the 12th century. There were once two churches when Graveley was formerly known as Graveley-cum-Chisfield. Chesfield is a short distance to the east of Graveley is Chesfield where the ruins of the second church, a 14th century structure can be seen in the fields.

Graveley High street is part the Great North Road coaching route linking London with York and Edinburgh, hence the name of two of Graveleys public houses 'Waggon and Horses', and the Highwayman at Jacks Hill.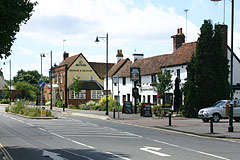 Although Graveley is very close to Stevenage, and indeed the overspill part of the Great Ashby estate (Stevenage) which sits in North Hertfordshire was part of the parish of Graveley until 2012. The village manages to maintain its village feel with surrounding farm land and green belt land.

Graveley stretches north towards Baldock and Letchworth to Jacks Hill where a further public house 'The Highwayman', the Chesfield Downs Golf Club and the Graveley fruit farm can be found.
---